Win a set of cleaning sponges and erasers from PEL!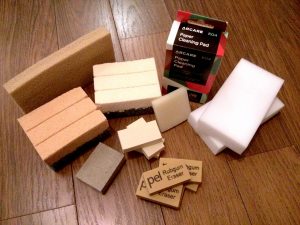 We all know conservators love cleaning: so here's your chance to win a whole bundle of sponges and erasers from PEL!
The bundle includes:
1 x Smoke Sponge
1 x Akapad Classic Sponge (formerly Wishab)
1 x Akapad Sensitive White Sponge & Dry Cleaning Powder
1 x Document Cleaning Pad
2 x Sponge Erasers
5 x RubGum Erasers
3 x Foam Erasers
1 x Coarse Eraser Bar
1 x Crepe Eraser
How to enter
Simply send us a photo of your favourite tool, tools, or tool kit! Anything you use in your daily conservation life is fair game. 🙂 Tweet us, email us, or send us a message on Facebook with your photo!
Rules and such
This giveaway is open to anyone anywhere in the world. 🙂 You can send us as many photos as you'd like but you are only entered into the competition once (i.e. it won't increase your chances of winning).
We'll pick the top three entries and a winner will be randomly selected from the three finalists.
Brought to you by Preservation Equipment Ltd and The C Word: The Conservators' Podcast. 🙂
Deadline is January 20th 2018
Winner announced January 25th 2018
(Okay, the two runner-ups might get a little something too. We won't tell you what though! It's a surprise.)